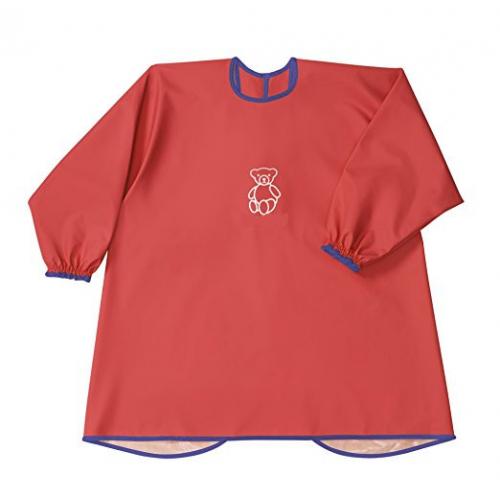 Description
The soft and breathable material allows your toddler to move freely without feeling confined or hot, and the long sleeves have comfortable elastic cuffs. The poppers on the back can be fastened in two ways to fit your growing kid and will open easily in case the smock gets caught.
Quick Facts about the Eat & Play Smocks
Soft material that allows child's skin to breathe

Bib and apron in one

Soft material that allows child's skin to breathe

Covers front and back

Suitable for children to use from 8 months

BPA-free plastic
Detail Information
Fits Children From Eight Months To Three Years
Exploring the world in a hands-on way is an important part of childhood development, but often a messy one, too. Designed to please both parents and young children, the Play Smock (Red) is a comfortable-to-wear, easy-to-clean garment that protects clothing more thoroughly than back-tie smocks. The smock is made of lightweight, non-toxic material.
Protects Your Child's Clothing

The Eat and Play Smock offers soft yet durable protection against spots and spills. It's helpful at mealtime and when your child is painting or giving you a hand in the kitchen. The eat and play smock is easily buttoned at the back and never feels too warm, thanks to its breathable fabric. Its soft and supple quality provides full freedom of movement for your child. The hard-wearing material is easy to wipe off and is machine-washable.
Liquid-Repellent Material
Eat and Play Smock is made from a liquid-repellent material that protects clothing while allowing the child's skin to breathe.


Easy To Clean

Eat and Play Smock has no unnecessary seams where dirt can gather. The fabric is easy to wipe off and machine-washable.